PMC Blog
Saturday, 16 February 2013 17:26
Get ready for an outrageous comedy set against the backdrop of a loud Punjabi wedding in Chandigarh. Mere Dad Ki Maruti tells the story of a boy who sneaks his dad's fancy new car out to impress the college hottie and how all hell breaks loose when he loses it!
Read more...
Saturday, 09 February 2013 11:54
"Exactly 15 years ago came out a song that surprised both the Indian and the Hip Hop community and still provides a great atmosphere at any party. Punjabi music mixed with fat hip hop beats. Rajinder Rai, aka Panjabi MC then made with the song "Mundian to bach ke" the breakthrough and is since then a pioneer of Bhangra-hip-hop, a blend of Indian music and hip hop. Long as one has heard from him no more. Currently is working on his new album "56 District" and mixed today with the carnival. And we have of course invited him to us directly!" - funkhauseuropa.de


Listen back to the interview and the first play of STYLE with Offlicence & Trilla
Here: http://www.funkhauseuropa.de/musik/studiogaeste/2013/panjabimc_130209.phtml
Friday, 08 February 2013 11:21
Get ready 4 the HARDEST party!

Boom Boom Boom Boom! See Panjabi MC headlining alongside Venga Boys, Deluxe Soundsystem & Marsimoto Soundsystem, LIVE at Rhythmusgymnastik
The popular british DJ behind chart-topping hits such as 'Moorni' and 'Mundian To Bach Ke' as well as numerous other collaborations will be in Cologne in 09 Feb 2013 to showcase his dance-worthy blend of Bhangra, hip-hop and dance. As of 2012, 'Mundian To Bach Ke' is now cemented an all time classic having recently been included as the only British artist on the world #1-selling dance game 'Dance Central 3' and appears on 'Just Dance 4' alongside British artist Jessie J, One Direction and Cher Lloyd.
Info: https://www.facebook.com/pages/Team-Rhythmusgymnastik/168109079701
@panjabimc1
@vengaboys
@marsimoto
Read more...
Wednesday, 09 January 2013 10:13


Watch Panjabi MC reviewing the new movie 'Life of Pi' at MTV's http://www.nextmovie.com
"I would put a Panjabi MC soundtrack on there, some hardcore beats, some nice Tablas because we got to see some wildlife in the film Meerkats running around a island we didn't even no existed and stuff like that. But at the same time we needed some beats up in the place to keep people awake" - Panjabi MC


Sunday, 30 December 2012 15:17
Panjabi MC in New York w/ DJ Rekha
Thursday, 3 January 2013 at 19:00
@ Le Poisson Rouge, 158 Bleecker Street, New York, NY
Panjabi MC in Washington w/ DJ Rekha
Saturday, 5 January 2013 at 21:30
@ Black Cat, 1811 14th St NW, Washington, DC
Sunday, 30 December 2012 13:40
Are you ready to be BLOWN AWAY this NEW YEAR'S EVE?? The Blue Blazer has a ONCE-IN-A-LIFETIME experience planned for you!! Our NEW YEAR'S EVE EXTRAVAGANZA has all the WILDEST elements imaginable!

With the one and only **PANJABI MC** !!!!
Plus
*Foreign dancers *Fire-blowers *Pole dancers *Tequila shot girls *Gala buffet dinner and much much more!!!

That's right.... It's the New Year party to TOP ALL PARTIES!!!
Monday, 31 December 2012
SCO 1 Sector 26, MADHYA MARG, Chandigarh, India 160026


Friday, 21 December 2012 13:58
WHITE MAN IMITATES INDIAN - PUNJABI SONG aka Mr Mr hooli hooli hooli goes Viral with 286,312 views in 1 day! Singing Panjabi MC's "Mundian To Bach Ke,"
The video is now currently trending on twitter.
Some say its hilarious, disturbing or musically impressive - What do you Think?
Read more...
Wednesday, 05 December 2012 00:46
Bollywood star Akshay Kumar made a spetacular grand entrance at 3rd Kabaddi world Cup on top of a truck singing LIVE vocals along to no other than Panjabi MC.
Read more...
Friday, 30 November 2012 20:32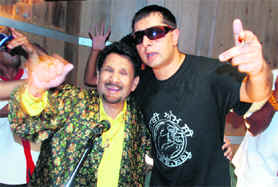 Panjab MC took to twitter to write a trubute to the late Kuldeep Manak who sadly past way this time last year.
A musical legend, icon, inspiration, trend-setter, history maker - Ustaad Kuldeep Manak - 1 year on, we still miss you sir! #Punjabi

— Panjabi MC (@PanjabiMC1) November 30, 2012
A musical legend, icon, inspiration, trend-setter, history maker - Ustaad Kuldeep Manak - 1 year on, we still miss you sir! #Punjabi — Panjabi MC
«
Start
Prev
1
2
3
4
5
6
7
8
9
10
Next
End
»
Page 6 of 19
Live updates
PMC's latest Tweets: